(1) Bibliography
Fleischman, Sid. 1986.
THE WHIPPING BOY
. Illustrated by Peter Sis. New York: Greenwillow Books. ISBN 0-688-06216-4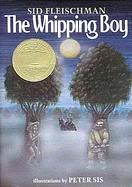 (2) Plot Summary
Jemmy is Prince Brat's whipping boy. Whenever the prince misbehaves (and it happens often) Jemmy is punished in the prince's place with a thrashing. One night claiming boredom, the prince runs away from the castle forcing poor Jemmy to come with him. The pair is later accosted in the woods by thieves. Jemmy hatches a plan to escape leading the villains to believe the he is really the prince and that the prince is the whipping boy. The only problem is Prince Brat has no desire to escape and return to the palace. To complicate matters Jemmy is implicated in the kidnapping because the ransom note is in his handwriting (Prince Brat is illiterate because he never took time to learn his penmanship). Will Jemmy and Prince Brat escape their captors and will Jemmy get to clear his name?
(3) Critical Analysis
Despite the fact the story is set somewhere in medieval Europe, young readers might relate to our protagonist, Jemmy. It is also plausible that a few readers may identify with Prince Brat. The inclusion of having the whipping boy actual whipped as well as the princes adds more drama and authenticity. Fleischman makes excellent use of dialog which intricate to the style. Sis's black and white illustrations exhibit a lot of detail and provide the reader with a visual reference of the setting. Some of the characters seem a little silly and rather outlandish however they do not subtract from the story.
(4) Review Excerpt(s)
Publishers Weekly: "…things turn out for the best at the story's satisfying close. Colorful types like thieves called Hold-Your-Nose Billy, Betsy and her dancing bear Petunia, et al., increase the fun."
School Library Journal: "This whimsical, readable story delights in the manner of Bill Brittain's books The Wish Giver (1983) and The Devil's Donkey (1981, both Harper)."
(5) Connections
*Assign the following books sharing similar themes to the class:
Kudlinski, Kathleen V. and Lyn Durham.
Marie: An Invitation To Dance France, 1775.
ISBN 0606108238
Snyder, Zilpha Keatley.
The Egypt Game.
ISBN 1416960651
Yep, Laurence.
Spring Pearl: The Last Flower.
ISBN 1584855193
* The class can participate in a reader's theater script of The Whipping Boy.