(1) Bibliography
Philip, Neil. 2003. HORSE HOOVES AND CHICKEN FEET: MEXICAN FOLKTALES. Ill. by Jacqueline Mair. New York: Clarion Books. ISBN 0618194630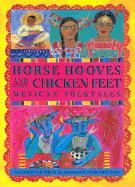 (2) Plot Summary
This book is a collection of Mexican-American tales, mostly of Spanish origin.
They have been past down orally for generations.
These tales come not from professional storytellers but from regular everyday folks, "mostly farmers, stock raisers, farm laborers, sheep-herders, housewives…" There is a bit of magic here for everyone.
(3) Critical Analysis
This book is interesting anthology of tales that range from one page to a few pages in length. Some tales are serious while others are silly yet both types exhibit that special kind of magic that can only be found in folktales. True to the culture, Philips selections are engaging and amusing. Philips includes notes for each of the tales for those further interested in other variants. With bright, strong colors Mair's illustrations are multi-faceted often depicting many scenes in the respective tale.
(4) Review Except(s)
Booklist: "…one illustration comprising several images accompanies each story, each image mirroring some action, often in a way that is original and unexpected."

School Library Journal: "…this richly varied collection presents the unique blend of folkloric elements and the Catholicism that defines Mexican folklore."
(5) Connections

* Discuss the themes and characters that are prevalent in the tales: three wishes, Cinderella, the Virgin Mary, the Devil, etc.

* Read other versions of the tales presented. Have the children compare and contrast.

* Make a cultural tie in by having the class study Mexican Holidays such as Dia de Los Santos Reyes, Feast Day of de San Antonio de Abad, Dia de la Candelaria, Carnaval, Dia de los Muertos, etc.