(1) Bibliography
Henkes, Kevin. 2004.
KITTEN'S FIRST FULL MOON.
Ill. by Kevin Henkes. New York: Greenwillow Books. ISBN 0-06-058838-4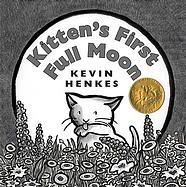 (2) Plot Summary
A kitten witnesses a full moon for the first time and believes it to be a big bowl of milk. The kitten tries in vain to get at the bowl. After many failed attempts, she finally gives up. When the kitten arrives home there is a bowl of milk on the porch waiting for her.
(3) Critical Analysis
Set in the darkness of night, the main static character in this story is a persistent little kitten that is determined to get her bowl of milk in the sky. The other character is the moon who constantly evades the kitten. Throughout the book each time the kitten fails the narrator utters "poor kitten!" This is important because Henkes wants the young readers to empathize with the kitten and her plight, not ridicule her. At the end when the kitten finally gets her bowl of milk the narrator cheers the kitten exclaiming "lucky kitten!" Despite being only black and white, the pictures captivate the eyes. Henkes utilize bold strong lines and shading to bring the kitten to life. It almost seems as if she could jump right out the book. The images are so powerful they could stand alone with the text to tell the story.
(4) Review Excerpt(s)
School Library Journal: "An irresistible offering from the multifaceted Henkes."
Publishers Weekly: "The narrative and usual pacing will keep children entranced…"
(5) Connections
* Utilize the Board of Felt to reenact the story.
* Dress-up (teacher, librarian, or childcare provider) as a cat.
* Read books about cats and about the moon:
Carle, Eric.
Have You Seen My Cat?
ISBN 0-15-314263-4
Carle, Eric.
Papa, Please Get The Moon For Me.
ISBN 0-88708-026-X