(1) Bibliography
Colfer, Eoin. 2002.
ARTEMIS FOWL: THE ARCTIC INCIDENT
. New York: Miramax Books. ISBN 0-7868-0855-1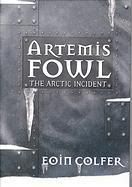 (2) Plot Summary
With his father missing for the past two years and declared dead, our anti-hero Artemis Fowl has been busy rebuilding the family fortune through unscrupulous means. One day he receives an e-mail from some Russian terrorists claiming to hold his father hostage. Artemis and his trusted bodyguard, Butler, embark on a rescue mission. However, before the two are able leave they are accosted by Captain Holly Short of the Lower Elements Police (LEP) and taken to the underground fairy world. Will Artemis be able to set aside his differences and team up with LEP and vice versa? Will the thirteen-year-old arrogant, criminal genius find anyone worthy of his respect along the way?
(3) Critical Analysis
Artemis Fowl is a criminal with a zero ounce of respect for anyone and who should be behind bars yet Colfer does a superb job of making the reader care about Artemis and his mission to rescue his father. After all Artemis is only following his father's footsteps. He is a victim who cannot help the circumstances of his birth. What starts out as a straight forward task becomes more and more complicated along the way keeping the reader engaged in the plot. Set mostly in the underground fairy world, Colfer relies mostly on dialogue to more the action along. In the end Artemis discovers there are people worthy of his respect.
(4) Review Excerpt(s)
Publishers Weekly: "Rapid-fire dialogue and wise-acre humor ensure that readers will burn the midnight oil,"
School Library Journal: "The action is brisk, with fiendish plots, ingenious escapes, and lively battle scenes."
(5) Connections
* Have students read other novels in the series:
Colfer, Eoin.
Artemis Fowl: The Eternity Code.
ISBN 0786856289
Colfer, Eoin.
Artemis Fowl: The Opal Deception.
ISBN 0786852895
Colfer, Eoin.
Artemis Fowl: The Lost Colony.
ISBN 0786849592
* Have students read the graphic novel:
Colfer, Eoin, Andrew Donkin and Giovanni Rigano.
Artemis Fowl: The Graphic Novel.
ISBN 0786848812
*Website of interest:
http://www.artemisfowl.com/