(1) Bibliography
Hesse, Karen. 1997.
OUT OF THE DUST.
New York: Scholastic Press. ISBN: 0-590-36080-9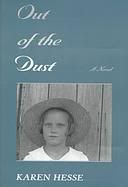 (2) Plot Summary
Set in 1930's Oklahoma this novel covers two years in the life of a teenage girl named Billie Jo. She lives with her parents on their farm and life is a constant struggle. With the dust storms, lack rain, the Great Depression, and the fact he hasn't had a good crop in three years, Billie Jo's father attempts to grow wheat. Despite these set backs, somehow the family manages to survive. There is some excitement in house because Billie Jo's mother is pregnant. When Billie Jo is not in school or studying for state exams, she plays the piano and dreams playing the piano will take her somewhere.
(3) Critical Analysis
Written in narrative free verse, the novel manages to flow well. The flow endures even when Hesse breaks up some of the verses as in "The Dream."
Piano, my silent
mother,
I can touch you,
You are cool
and smooth
and willing
to stay with me
stay with me
talk to me.
Hesse uses rhythm as a tool and by disrupting it she conveys the strong emotions associated with loss. The emotional impact of this verse-in-novel is strong. The reader feels the heroine's joy and pain, her confusion and hope. The imagery is extremely vivid and the verses convey this property without being to wordy. The story is powerful and moving.
(4) Review Excerpt(s)
Booklist: "…Hesse's writing transcends the gloom and transforms it into a powerfully compelling tale of a girl with enormous strength, courage, and love."
Kirkus Reviews: "…there are no pat endings, but a glimpse of beauty wrought from brutal reality."
(5) Connections
*Have the class read other novels set in the Great Depression Era:
Koller, Jackie French.
Nothing to Fear.
ISBN 015257820
Taylor, Mildred.
Roll of Thunder, Hear My Cry.
ISBN 0803726473
*Have students read non-fiction literature as well:
Freedman, Russell.
Children of the Great Depression.
ISBN-13 9780618446308
Lied, Kate.
Potato: A Tale from the Great Depression.
ISBN 0792269465
*Science Connection: Study dust storms.
Planet Gobbling Dust Storms.
http://science.nasa.gov/headlines/y2001/ast16jul_1.htm
Science: Causes of the Dust Bowl.
http://www.woodyguthrie.org/curriculum/curscience.htm
What caused the 1930s dust bowl (for images)?
http://www.eurekalert.org/features/kids/2004-03/aaft-wct020805.php