(1) Bibliography
Prelutsky, Jack. 1996.
A PIZZA THE SIZE OF THE SUN.
Ill. by James Stevenson. New York: Greenwillow Books. ISBN 0-688-13236-7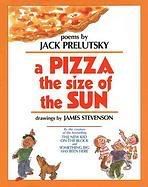 (2) Plot Summary
In the first poem the author is making a gigantic pizza. He plies on "oceans of sauce," "mountains of cheese," and acres of toppings! It's an original that he is willing to share with all pizza lovers. The pie will take a year and a half to bake. This book is full of adventures such as "I'm wrestling with an octopus," "I'm practically covered with needles and pins," "I made something strange with my chemistry set," and "I'm proud of my Preposterpus."
(3) Critical Analysis
An anthology of silly poems, A Pizza the Size of the Sun is loads of fun. Most of these poems rhyme and are in cadence. Prelutsky gets creative with some of the poems. "I Was Walking in a Circle" is written in a circle and reads clockwise. "Backwards Forwards Silly Rhyme" is pended entirely backwards. "Gloppe's Soup Shope" contains an illustrated list of the soups sold within the poem. The reader needs a mirror in order to read "I Am Your Mirror Image." The author makes use of alliteration in "Quentin Quimble Quamble Quayle." The chorus in "Rat for Lunch" is humorous and delightful:
Rat for lunch! Rat for lunch!
Yum! Delicious! Munch munch munch!
One by one of by the bunch—
Rat, oh rat, oh rat for lunch!
Several creatures are anthropomorphic such as the Jellybean Brigade, the Teenage Hippopotamus, and the Unsavory Tomato. At times Prelutsky uses some vocabulary that is a bit advanced (i.e. ascertained, predicament, invariably) but it is important for children to get exposure to new words in order to expand their vocabulary. The emotional impact is ridiculous, carefree, and amusing. Stevenson's black and white illustrations really compliment the poems. Poor Mr. Rollo now framed on the author's living room wall.
(4) Review Excerpt(s)
Booklist: "A delightful addition to poetry collections that will not stay on the shelf for long."
Publishers Weekly: "This often boisterous mix of silliness and song should prove entertaining for the whole family."
(5) Connections
*Have the children read other Prelutsky poem books:
Prelutsky, Jack.
Nightmares: Poems to Trouble Your Sleep.
ISBN 0688840531
Prelutsky, Jack.
The Frogs Wore Red Suspenders.
ISBN 006073776X
Prelutsky, Jack.
The Beauty and the Beast: Poems for the Animal Kingdom.
ISBN 067987058X
*Have the class explore similar poetry selections:
Foster, John.
My First Oxford Book of Nonsense Poems.
ISBN 0192762753
Milligan, Spike. Silly Verse for Kids. ISBN 0140303316
Cole, Joanna.
Anna Banana: 101 Jump-Rope Rhymes.
ISBN 0688077889
*Students can visit Mr. Prelutsky official website:
http://www.jackprelutsky.com/